Number 1
The Phoenix Jewish Historical Society
1921 - Beth Israel synagogue cornerstone laid
2002 - Arizona Jewish Historical Society re-purchases site
The Phoenix Jewish Historical Society occupies the original building and 1st site of Phoenix' 1st successful permanently established synagogue, Beth Israel Congregation. As the Cutler Plotkin Jewish Heritage Center, the 1st Beth Israel now is restored to house historical artifacts and displays as well as public seminars and private celebrations. In addition, several small congregations such as the humanistic Jewish congregation, Or Adam, presently hold activities and services here.
Cutler Plotkin Jewish Heritage Center
---
From the mid-1950s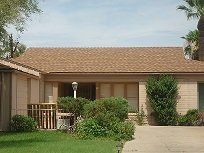 For over 40 years, Rabbi Plotkin, his wife Sylvia Plotkin, and their children lived here during the 2nd half of the 20th century. Their home is 5 blocks away, in walking distance, from the 2nd location of Beth Israel Congregation which we'll view next. Because of his activism,Rabbi Plotkin sometimes was considered the rabbi of the city of Phoenix during those 40 years.
---
The 2nd location of Beth Israel Congregation
1949 - 1996
After the Culver Street location, in mid-century, Beth Israel moved to the Phoenix College area of Central Phoenix. A few years later, the synagogue hired Rabbi Albert Plotkin who would be a large personality in the synagogue and in Greater Phoenix for 40 years.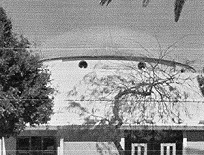 Beth Israel synagogue 2, now part of Phoenix College
---
Beth Israel Congregation, a reform affiliate and the longest established synagogue in Phoenix/Scottsdale
1997 - Present (3rd location)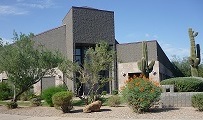 Beth Israel on the North Phoenix/North Scottsdale border
This is the Beth Israel Congregation that originally occupied the Phoenix Jewish Historical Society building. Beth Israel Congregation, in addition, houses the Sylvia Plotkin Museum of Jewish Life here. Founded in 1920, this synagogue describes itself as a vibrant, welcoming Jewish community.
Longest serving rabbi: Rabbi Albert Plotkin, 38 years, 1955 - 1993. Rabbi Plotkin, who one year (1994) sang with the Arizona Opera in its production of Turandot, was a loving and beloved guy who gave much to the Greater Phoenix community: from his volunteer chaplaincy at Phoenix Veterans Hospital to developing and teaching courses in the Jewish Studies Program at ASU, from being a passionate advocate for civil rights and for Israel to his teaching students at Phoenix's All Saints' Episcopal Church about the Jewish roots of Christianity, and, at age 85, volunteering to serve as a director of the Judaica museum at Beth Israel that is named for his wife, Sylvia, who had founded it almost 40 years before.