We've been leading walking tours of Boston for about ten years. So, when we were asked to devise a Jewish walking or bicycling tour of Cambridge, the home of Harvard University, we knew that we would walk many of Cambridge's streets before suggesting this friendship trail.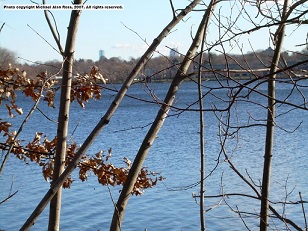 Cambridge's Fresh Pond
Once known as Newtowne, it wasn't until the mid-1800s - after various legal and attitudinal barriers were lowered, that Cambridge began to attract a community of Jews.
During the years 1875 to 1925, approximately three to five thousand Jewish immigrants arrived and stayed in Cambridge. The City - which, before the late 1800s, consisted of three villages, East Cambridge, Central/Inman, and Harvard Square (Old Cambridge) - by 1900, was becoming a unified city, linked within (and without) by landfill, bridges, and the new, electrified, public transportation system.
The bulk of Cambridge's three to five thousand Jewish immigrants settled in the Central and Inman Square areas. A small but important number of Jews affiliated with Harvard University, as students or as faculty members, settled in the Harvard Square area.
This BostonWalks' "The Jewish Friendship Trail" in Cambridge is designed as a 2.5 hour bicycling tour. Try bicycling it yourself by printing out this website. Better yet, purchase our Guidebook, BostonWalks The Jewish Friendship Trail Guidebook by clicking here!
Let's bike, then, to these sites of Jewish Experience in Cambridge:

(1) Our first stop is at the far end of Brattle Street - or rather that portion of the former Brattle Street now known as Elmwood Avenue. It was here that Felix Frankfurter, Harvard Law School professor and Associate Justice, United States Supreme Court, rented a house between the 1920s and 1960s.


(2) We'll now bike up Reservoir Road where another Harvard Law School professor today makes his home. Alan Dershowitz is well known for his writings, television appearances, and famous clients. His concerns about the continuance of the Jewish people in America have been expressed in his "Chutzpa" and "The Vanishing American Jew."


(3) We're heading toward and through Inman Square, once the heart of Cambridge's Jewish community.
Around Inman Square were located:
Cambridge's first shul - Congregation Anshe Sfard on Webster Street, Somerville,
Cambridge's first Jewish community center on Elm Street,
Cambridge's second shul - Congregation Beth Israel on Columbia Street, and
Cambridge's third shul - Temple Ashkenaz on Tremont Street.
As we pass through Inman Square, we'll note (a) the large Jewish style delicatessen there, a survivor in the spirit of two others no longer extant in Brookline and Mattapan and (b) the old shop where the Swartz family once maintained their furrier business.
(4) The Congregation Anshe Sfard (1898-1957) building, a former wooden building with a mikvah, no longer exists.


(5) Cambridge's first Jewish community center (1913-1954) building does exist and today is a Portuguese Club. As a Jewish community center, it served a literary association, a YMHA, and a Zionist center.


(7) The Congregation Beth Israel (1900-1962) building also exists and today contains residential apartments. The congregation here followed a Sephardic minhag. This wonderful, brick shul building of Congregation Beth Israel was built during 1901-1902 and dedicated in 1903.


(8) The Temple Ashkenaz (1910-1962) building likewise exists but in a new reincarnation (since the 1962 merger of Congregation Beth Israel and Temple Ashkenaz) as Temple Beth Shalom. Today, Temple Beth Shalom, often referred to as the Tremont Street Shul, is best known for its vibrant Simhat Torah celebrations which spill out onto Tremont Street.


(9) Heading Southwest now, toward Central Square, we'll pass by a later Jewish Community center (1951-1977) building on Harvard Street and then rediscover another shul on Howard Street. The Congregation and Talmud Torah Yavna (1918-1934) building today is quite run down, having been used as a harpsicord workshop and residences for many years.


(10) Heading toward the Charles River from Central Square, we'll stop by an active congregation which evolved from a children's Hebrew school of the 1970s, Congregation Eitz Chayim.


(11) On to the Harvard University buildings and area, where we'll bike by the so-called Hebrew Room in Harvard Hall; Thayer Hall where Justice Louis Brandeis lodged in his Harvard law School days; the corner of Kennedy and Winthrop Street, where once stood the home of Judah Monis, Harvard's first full-time Hebrew instructor; and, finally, we'll conclude this bike tour at the vibrant Harvard University Hillel House on Mt. Auburn Street.