115 years ago, before television and radio,
one means of socialization in America for the thousands of Jewish immigrants pouring into Boston from Eastern Europe (particularly from Lithuania, Russia, Rumania, and Poland) were groups, clubs, settlement houses, and organizations - from religiously active chevrot and mutually assisting landsmanshaftn to political, recreational, educational, and businessmen's clubs.
Hecht House, West End House, and Civic Service Center
were three educational and recreational clubs - the first two serving youth and the third adults.
Hecht House specifically served Jewish girls and boys. West End House (formerly the Excelsior Club), started as an all-Jewish boys club and principally served a Jewish membership up to WWII (Officially, it was non-sectarian from 1906 forward.). Civic Service Center, located on Salem Street next to Baldwin Place in the center of Boston's North End Jewish population, in its first two decades attracted a majority of Jewish adults (as well as Italian and Irish immigrants).
Today, two downtown Boston buildings survive of this trio of clubs: the 1929 edifice of West End House at 16 Blossom Street and the building at 112 Salem Street which housed the Civic Service Center. No plaques describe their roles in socializing the children and adults of our Jewish immigrants.
Instrumental to the early development of these three clubs were
Lina Hecht and Golde Bamber at Hecht House
James Storrow and Mitchell Freiman at West End House, and
Pauline Agassiz Shaw, Meyer Bloomfield, and Philip Davis at Civic Service Center.
By analogy, Lina Hecht, James Storrow, and Pauline Agassiz Shaw were the producers (funding and inspiration); Golde Bamber, Mitchell Freiman, and Meyer Bloomfield/Philip Davis were the directors (implementation).
Hecht Neighborhood Houses'
Lina Hecht dedicated her life to Jewish philanthropic endeavers. One of her most inspired projects started in 1890 as an effort to teach immigrant Jewish girls the basic skills for earning a living and socialization in Boston. Familiar with Pauline Agassiz Shaw's funding of the North Bennett Street Industrial School and the many clubs welcomed there; Hecht hired a young teacher, Golde Bamber, to create clubs for Jewish girls at that location. Among the results were a sewing club as well as a soap and water club (which taught cleanliness skills).
As the Jewish immigrant population migrated to the West End, so did Lina's and Golde's clubs. With Hecht's financial resources, there in the West End, the clubs were reconstituted as the Hecht Neighborhood Houses, rented several locations, and invited the participation of both girls and boys. Even after Lina Hecht's death in 1920, Hecht Houses continued their social services well beyond the middle of this century, following the Jewish population into Dorchester.
West End House
(like Hecht House) started as a one-gender organization. In 1903, thirty-five Jewish boys, children of immigrants and neighborhood friends, on their own volition, formed a club called the Excelsior Club. Soon afterwards, the Excelsior Club requested and received assistance from the Jewish Federation in the form of a part-time advisor: Mitchell Freiman.
The Excelsior Club's activities included performances of scenes from Shakespearian plays. James Storrow, prominent Boston Brahmin banker and politician, attended one performance of scenes from their Hamlet. Afterwards, he invited the entire membership of the Club to spend a winter Sunday in the country at his Lincoln estate.
In the Spring, upon learning of the boys' lack of facilities and financial resources; he agreed to not only pay for building rent and maintenance but also to hire Mitchell Freiman fulltime as director for the now re-constituted Excelsior Club to be known as the West End House. While technically non-sectarian, the West End House membership would remain predominantly Jewish up to World War II.
From athletics to declamation, from minstrel shows to a West End House symphony orchestra, from the House Bulletin to a speakers series; West End House was a powerful force in many Jewish boys lives.
Alexander Brin, the second Editor/Publisher of The Jewish Advocate, was one of the many speakers at West End House evenings. His topic: "Jewish Ideals and Abraham Lincoln."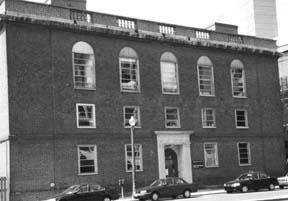 This West End House facility at 16 Blossom Street
was dedicated and opened two years after James Storrow's death and bequest of funds for its construction in January, 1929. Jacob M. Burnes, one of the Jewish alumni of West End House, by then, was director of it; and Trustees included not only Mrs. Storrow but also Louis E. Kirstein, a Filene executive, and David A. Ellis, a Brandeis protege'/lawyer.
Civic Service Center
stood in the center of the North End's Jewish commercial and religious activities: on Salem Street, at the corner of Baldwin Place and diagonally across the Street from the quaint, brick firehouse (still extant and occupied by Sheldon's Bargain Store). Today, a restaurant with apartments above it occupy what was once a vibrant settlement house for adult immigrants.
At the turn of the century, two freshly-minted Jewish social workers, Meyer Bloomfield and Philip Davis, began work here to teach immigrants the English language, American history, and other work and socialization skills. They were funded by Pauline Agassiz Shaw, who had funded a similar project for children a few blocks away at the corner of North Bennett Street.
For a while, Philip Davis, newly-married, lived upstairs in Civic Service Center and experienced first hand the immigrant life in the North End. His book, "And Crown Thy Good," gives eloquent voice to the experiences of the Jewish immigrant. In one anecdote, he describes a mohel (a ritual-circumciser of eight-day-old Jewish boys) who was refused admittance to the United States because he was too old to slaughter animals! Davis tells us how he was able to explain to Immigration officials the distinction between butchers and mohels; and, thereby, salvage this immigrant's admittance.
Philip Davis, an immigrant himself, also was a cousin of Chaim Weizmann, our Zionist leader and first President of Israel. In 1921, when Weizmann passed through Boston, he visited with the Davis family, by then living in Medford, where Davis tells us they shared their stories of common boyhoods in Russia.
Meyer Bloomfield, with degrees in law and social work, beside directing Civic Service Center, also worked with Louis D. Brandeis to settle abostonwalks.tripod.com variety of labor disputes including garment industry strikes. The preferential union shop was one of the results of their combined resolution efforts. Hecht House, West End House, and Civic Service Center, in serving the Jewish immigrant population well, were significant contributors to today's Boston Jewish community.