Now available!
Learn Jewish American History
In Boston, MA
With Self-Guided Walks!

Click here on this GuideBook Cover
to order your copy now!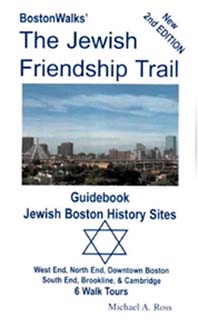 BostonWalks'
The Jewish Friendship Trail
Guidebook

Jewish Historic Sites of Boston, Brookline, and Cambridge

New 2nd Edition
With 6 Self-Guided Walking Tours
Softcover 198 pages with b/w photos

Click here
Book Order Form
to order directly
from publisher!