One definition of friendship:
To seek G-dliness by learning, by building, and by kindness.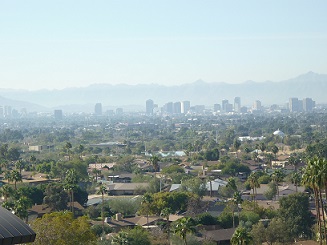 It appears that a few adventuresome Jews began arriving in the Salt River Valley (later re-named the Valley of the Sun), future home of Phoenix and Scottsdale, as early as the 2nd half of the 19th century. Among these adventurers were Michael Wormser, Emil Ganz, Anton Leonard Meyer, Michael Goldwater and his sons, Morris Goldwater and Baron Goldwater, Isaac Rosenzweig, Isaias W. Hellman, and Sol Lewis.

As early as the late 1870s, Michael Wormser had opened an agricultural supplies store in Phoenix. By selling equipment on credit in exchange for liens on land, Wormser began acquiring acreage in the Valley. Over time, his land holdings became extensive. Later in life, Wormser expressed orally an intention to donate land for a Jewish cemetery in Phoenix. After he died, Charles Goldman, Wormser's executor, with permission of Wormser's beneficiaries, carried out Wormser's oral intention, and land was donated which then passed 1st to a Mount Sinai Association in 1902, then to a Phoenix Hebrew Cemetery Association in 1904, and, finally, in 1928, to Beth Israel, Phoenix' 1st permanent synagogue.

Emil Ganz started off here by opening a hotel and restaurant, both with the name Bank Exchange. In 1885, 1886, and 1899, he became and was re-elected Mayor of Phoenix (3 one year terms). In Ganz' 3rd term, he led a drive to annex residential additions contiguous to the City. In 1888, Anton Leonard Meyer, was elected Mayor of Phoenix. During his one term, Phoenix was chosen by the Territorial Legislature as the Territorial Capitol.

The Goldwaters, after fits and starts, successfully established branches of their department store here. Their descendent, Barry Goldwater would be a US Senator from Arizona and 1964 Republican nominee for US President. Isaac Rosenzweig established himself in the jewelry business. Isaias W. Hellman participated in the creation of Wells Fargo Bank. Sol Lewis was an originator of the National Bank of Arizona Phoenix.
---
As the 20th century approached and commenced, individuals and families continued to participate in political and business life here and Phoenix and Scottsdale Jewry began developing community structures. Two Jewish families, the Korricks and the Diamonds, developed the largest department stores, The New York Store and The Boston Store, in Phoenix.

Two of the Korrick and Diamond wives, Blanche Korrick and Helen Diamond, participated in Phoenix community life. Another publically active Jewish woman of this era was Freeda Marks, who was elected to serve in the Arizona State Legislature.

Another Jewish family, Rosenzweig, followed, in a major way, a pattern similar to other Phoenix Jewish families. Success in business, in this instance a jewelry store, activism in Phoenix political and social life, development/investment in Phoenix construction, and participation in philanthropic programs.

A few of the synagogues that we see here today began arising. The 1st successful synagogue established was Temple Beth Israel, beginning as a traditional house of prayer in the nineteen teens. A little over a decade later, Beth El Congregation was established.

---

By mid-20th century, estimates put the Jewish population of Phoenix Scottsdale between 12,000 and 15,000 persons. An early 21st century demographic study listed the Greater Phoenix Jewish population at 83,000 persons.


Between 1950 and 2014, three persons who considered Phoenix their home, made significant contributions to the Phoenix Jewish community as well as to the larger community: Rabbi Albert Plotkin, Mayor Phil Gordon, and Film Director Steven Spielberg. We will stop by their homes.


By the 1st decade of the 21st century, Phoenix had come full circle politically, electing a 3rd Jewish mayor, twice, in 2004 and 2008.


Today, in 2014, the Greater Phoenix Scottsdale area Jewish population has exceeded the 100,000 persons mark. There is a diverse, broad, and deep selection of Jewishness: reform, conservative, and orthodox. We'll stop by the present congregational buildings of the earliest synagogue for each of the major Jewish denominations here.
---
Jews have survived well in Phoenix and Scottsdale. Beside creating Jewish institutions, Jews have been and are active participants in their larger community. In this tour, we'll get a sense of the Jewish community's evolution via a couple of Jewish synagogues, a number of major Jewish entrepreneurs, a rabbi, a politician, a film maker, and developers/philanthropists.
---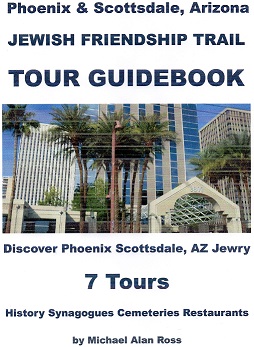 ---
---
Now, see below, a preview of some of our Phoenix Scottsdale Jewish sites!
Number 1
The Phoenix Jewish Historical Society
1921 - Beth Israel synagogue cornerstone laid
2002 - Arizona Jewish Historical Society re-purchases site
The Phoenix Jewish Historical Society occupies the original building and 1st site of Phoenix' 1st successful permanently established synagogue, originally called Temple Beth Israel and now known as Congregation Beth Israel. As the Cutler Plotkin Jewish Heritage Center, the 1st Beth Israel now is restored to house historical artifacts and displays as well as public seminars and private celebrations. In addition, several small congregations such as the humanistic Jewish congregation, Or Adam, presently hold activities and services here.
Cutler Plotkin Jewish Heritage Center
Number 2
1914 - Korricks open their department store's new building
Offices and small ground level retailers today occupy the Korrick's 1914 building which although remodeled inside and out still retains the basic structure of the original steel and concrete building completed in November, 1914.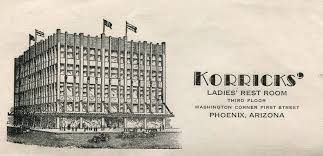 The New York Store, as it appeared in 1914
Number 3
Beth El Congregation
1951 - 1968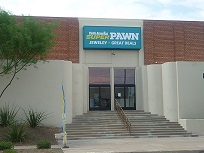 Beth El Congregation is Phoenix' 2nd successful, permanently established synagogue. It's affiliated with the conservative movement. This building was built new from the ground up by Beth El members. It was Beth El Congregation's 2nd site and served the congregation from 1951 to 1968. As can be seen, it's now a pawn shop. Beth El's 1st building, which served from 1931 to 1951, no longer exists. After 1968, Beth El moved to Glendale Avenue, which site we'll visit.
Number 4
From the mid-1950s

For over 40 years, Rabbi Plotkin, his wife Sylvia Plotkin, and their children lived here during the 2nd half of the 20th century. Their home is 5 blocks away, in walking distance, from the 2nd location of Temple Beth Israel which we'll view next. Because of his activism, Rabbi Plotkin sometimes was considered the rabbi of the city of Phoenix during those 40 years.
Number 5
The 2nd location of Temple Beth Israel
1949 - 1996
After the Culver Street location, in mid-century, Beth Israel moved to the Phoenix College area of Central Phoenix. A few years later, the synagogue hired Rabbi Albert Plotkin who would be a large personality in the synagogue and in Greater Phoenix for 40 years.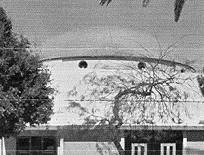 Beth Israel synagogue 2, now part of Phoenix College
Number 6
Rosenzweig Center, now known as City Square
Built starting in the late 1960s
Newton and Harry Rosenzweig carried their dad's, Isaac's, jewelry store to new heights, allowing them to be participants in Phoenix' political and social life, to become developers/investors in building Phoenix, and to join in philanthropic endeavors. Their most significant development/investment was the 3 building towers called Rosenzweig Center, in recent years re-named City Square.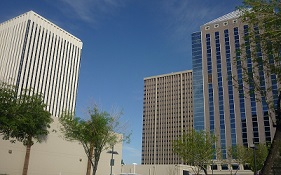 Rosenzweig Center, now known as City Square
Number 7
Beth Joseph Congregation
The largest and earliest permanent orthodox shul here. Led by a dynamic rabbi and 2 assistant rabbis, this shul has been and is a central address for many Jewish learning experiences and celebrations.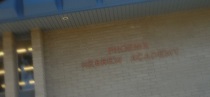 Beth Joseph Congregation, Hebrew Academy, and Vaad HaKashruth
Founded in 1965, this shul is devoted to orthodox Judaism even while welcoming all Jews. Longest serving rabbi: founding Rabbi David Rebibo, 49 years, 1965 - 2014.
Members and/or additional clergy of note: Rabbi Mayer Freedman.

Number 8
1960s
The 3rd Jewish mayor of Phoenix has a lifelong relationship with his Jewishness. In his youth and for his bar mitzvah, his family belonged to Temple Beth Israel. Later, his family belonged to Beth El Congregation and that's where his children were bar/bat mitzvahed. Among other programs, Mayor Gordon was instrumental in the growth of downtown Phoenix and light rail transportation.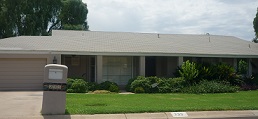 Convenient to the 2nd Beth Israel and close to Beth El Congregation, this home was occupied by Mayor Gordon's family for eleven years, from 1961 to 1972.
Number 9
Beth El (3rd location)
1968 - present day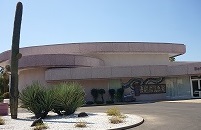 Beth El Congregation
This is the 3rd location of Beth El, a large egalitarian and earliest permanent conservative synagogue here. Inside, the building's main worship space contains expansive semi-circular amphitheater seating. It welcomes a congregation with a balanced population mix of 50% older folks and 50% younger members including children. It's a beautiful if formal setting for Jewish prayer. Services are followed by a sit-down kiddish in an equally impressive ballroom.
Longest serving rabbi: Rabbi Herbert Silberman, 18 years, 1977 - 1995.
Number 10
Congregation Beth Israel, formerly known as Temple Beth Israel
1997 - Present (3rd location)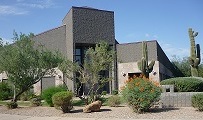 Congregation Beth Israel on the North Phoenix/North Scottsdale border
This is the same Temple Beth Israel, the 1st permanent synagogue in Phoenix/Scottsdale, the earliest reform synagogue here, and the Beth Israel that originally occupied the Phoenix Jewish Historical Society building. Congregation Beth Israel, in addition, houses the Sylvia Plotkin Museum of Jewish Life here. Founded in 1920, this synagogue describes itself as a vibrant, welcoming Jewish community.
Longest serving rabbi: Rabbi Albert Plotkin, 38 years, 1955 - 1993. Rabbi Plotkin, who one year (1994) sang with the Arizona Opera in its production of Turandot, was a loving and beloved guy who gave much to the Greater Phoenix community: from his volunteer chaplaincy at Phoenix Veterans Hospital to developing and teaching courses in the Jewish Studies Program at ASU, from being a passionate advocate for civil rights and for Israel to his teaching students at Phoenix's All Saints' Episcopal Church about the Jewish roots of Christianity, and, at age 85, volunteering to serve as a director of the Judaica museum at Beth Israel that is named for his wife, Sylvia, who had founded it almost 40 years before.
Number 11
A large modern Jewish Community Center with wonderful extensive recreational facilities
2002 - Present (5th location)
The Jewish Community Center provides an excellent athletic, social, and cultural venue that adds to the programming of synagogues here.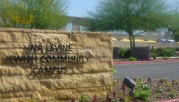 Valley of the Sun Jewish Community Center Scottsdale
Number 12
Steven Spielberg's early and mid teenage years Arcadia home
1957 - 1964
"Schindler's List" alone warrants Steven's home, as a former Jewish Phoenician's residence, among serious Jewish historical sites here.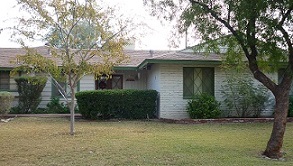 Facing west on a quiet street with a peek of Camelback Mountain, this home was occupied by Steven, his mom and dad, and his 2 sisters together for about six years, Steven's 10th to 16th birthdays.
Number 13
The conservative synagogue where Steven Spielberg was bar mitzvahed in January, 1960
1954
A once innovative synagogue building that now has fallen into disrepair, after dissolving as a synagogue, and passing through several different ownerships.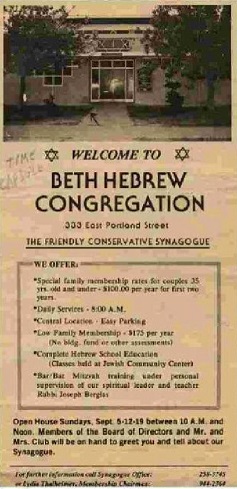 An advertisement for Beth Hebrew conservative synagogue
In 1977, Beth Hebrew moved to Orangewood Avenue and, in 1984, this synagogue merged into Beth El. Its simple, once beautiful building was sold and still stands, albeit in a decrepit condition today.
Number 14
As we return to the Phoenix Jewish Historical Society, in the building that housed the 1st location of Beth Israel, to explore the Museum of the Jewish Historical Society here, we invite you to share this tour with your friends and groups so that they also can discover these Jewish Phoenix and Scottsdale sites online and in-person with The Jewish Friendship Trail as part of an escorted private individual or group tour.

Additional Links to Jewish Phoenix and Scottsdale

Have you clicked on these other, on-line selections from Michael Alan Ross' new,
The Ten Commandments Guidebook?
Links to Boston and New England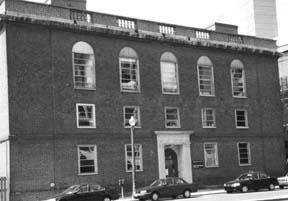 "West End House" circa 2004
Begun by 35 Jewish boys in 1903!
Click here to connect with
more of

Boston's Best!



Jewish Friendship Trail Guidebooks, as of 2020, only are available directly from the author/publisher. To purchase a Jewish Friendship Trail Guidebook, Email: BostonWalks
NOW AVAILABLE - (1) Phoenix Scottsdale Jewish Friendship Trail GuideBook
with 7 Tours of Sites of Phoenix Scottsdale Jewry!
Was $19.95 USD Now $8.00 USD + $3 Media Mail
Order your copy now directly from publisher.
(2) BostonWalks Jewish Friendship Trail GuideBook
with 6 Tours of Sites of Boston, Brookline, and Cambridge Jewry!
Was $19.95 USD Now $8.00 USD + $3 Media Mail
Order your copy now directly from publisher.
(3) BostonWalks The Ten Commandments GuideBook
with creative suggestions for approaching our Ten Commandments!
Was $19.95 USD Now $8.00 USD + $3 Media Mail

Order your reduced price copy now directly from publisher.
Email: BostonWalks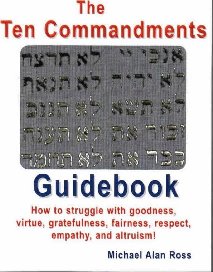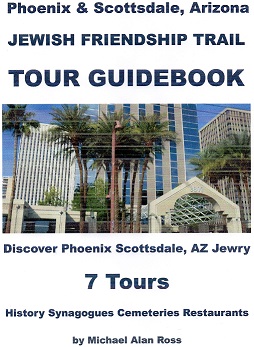 Filene

Best of Boston


Brandeis

Love Your Neighbor

Watertown, New Town, & Muddy River

Walk Near Water

Refute Hate

Walk West/North Ends


Pray Here

Meditation

Clubs

Brookline

Sensual Walks

More Love

Reporting


TEN

South End

What's a political mensch?

More "What's a political mensch?"

Sing Sense to America

Remember the 21st century 1st decade presidential elections by singing some salivatingly satirical and serious song lyrics. To do so, try these on your tongue: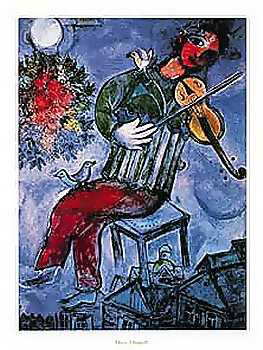 Question: What's a political mensch?