Now available!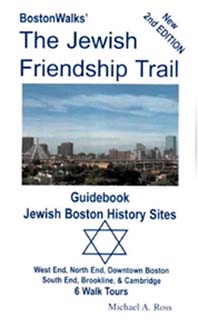 6 Self-Guided Walking/Bicycling Jewish Boston History Tours

Covers Boston, Brookline, and Cambridge

Softcover 198 pages with maps & b/w photos

Click here
Book Order Form
to ordernow!

Now available!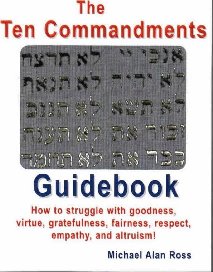 The Ten Commandments Guidebook

Ways to Self-Struggle with Classic Morals

In Song, Poetry, and Prose

Covers 10 Commandments Plus One Other!

Softcover 153 pages with practical suggestions pages!

Click here
Book Order Form
to order now!


Humanity Poem
Buy the book with additional songs:
The Ten Commandments Guidebook


Can we appreciate ourselves and our competitors in good humor
and based upon the same set of values, i.e. The Ten Commandments?
Michael Alan Ross uses his creative poetry, prose, and lyrics to meet such a challenge.


Mr. Ross, author of The Ten Commandments Guidebook with its creative (understatement) midrashim and piyutim about our commandments and BostonWalks' The Jewish Friendship Trail Guidebook with its 6 Self-guided Jewish History Walk Tours of Downtown Boston, hereinbelow offers a very brief example of his originality, a simple poetic blessing, a snow metaphor about oneness and God, In Awe:


© Michael Alan Ross 2004-2015. All rights reserved.
Bless God,
The spirit of our universe,
Who gives us responsibility,
Teaches us to appreciate:


Snow.


Light and heavy snow,
White and blue snow,
Wet and powder snow,
Little and big flakes,
Cold and frozen snow
Snow piles and drifts,
Snow-covered everything,
Featureless opaqueness,
With all colors within,
Like oneness.




© Michael Alan Ross 2004-2015. All rights reserved.

Satirical Song Lyrics and Poetic Commentaries!
Mr. Ross' song lyrics and poetry in light of the Ten Commandments offer uplifting, spiritual and, sometimes, challenging interpretations.

In his guidebook Mr. Ross offers many suggestions for us to consider in struggling with The Ten Commandments, making his Guidebook not only fun reading but also a fine teaching tool.

Click here to purchase The Ten Commandments Guidebook, ISBN 0970082525, by Michael Alan Ross.